The purpose of the Colorado Brain Injury Advisory Board is to ensure that MINDSOURCE – Brain Injury Network within the Colorado Department of Human Services, Colorado's lead state agency on brain injury, is effectively identifying gaps in services and supports, developing a responsive plan to address these gaps, and collaborating across private and public partners to meet the needs of individuals with brain injury and their family members.
The Advisory Board is comprised of volunteer members who bring a wide variety of perspectives and expertise including; lived experience with brain injury, state agency representatives, community advocates, and providers.
The Advisory Board will work in partnership with MINDSOURCE to develop a comprehensive statewide plan on brain injury. This state plan will act as a blueprint that will guide the work of MINDSOURCE and inform the work of the Brain Injury Collaborative and other related boards. The following steps will be used to develop the new state plan on brain injury MINDSOURCE and the Advisory Board will:
Synthesize existing needs assessments and plans such as the 2017 "Hard to Serve" study, past state plan, and a past Executive Order report, to find overlapping recommendations and to determine which recommendations remain relevant for the new plan.
Host regional town halls, conference calls, and conduct a survey to gain input from stakeholders across Colorado.
Based on the past reports and input from stakeholders, develop a new statewide plan on brain injury.
Monitor to ensure the report recommendations are being acted upon and implemented and to ensure the plan remains relevant.
Update the plan every five years.
The Colorado Brain Injury Advisory Board released its draft state plan for input on June 19th. 
Click here for a one page summary of the state plan draft. A link to the draft is here.
If you would like a Spanish version of the state plan we have included one here.
This document provides full background on the state planning process from July 2018 to present and also includes draft goals and strategies.
Through the identification of gaps, development of a statewide plan, and effective monitoring and implementation of the plan, MINDSOURCE seeks to improve the lives of individuals with brain injury and their families.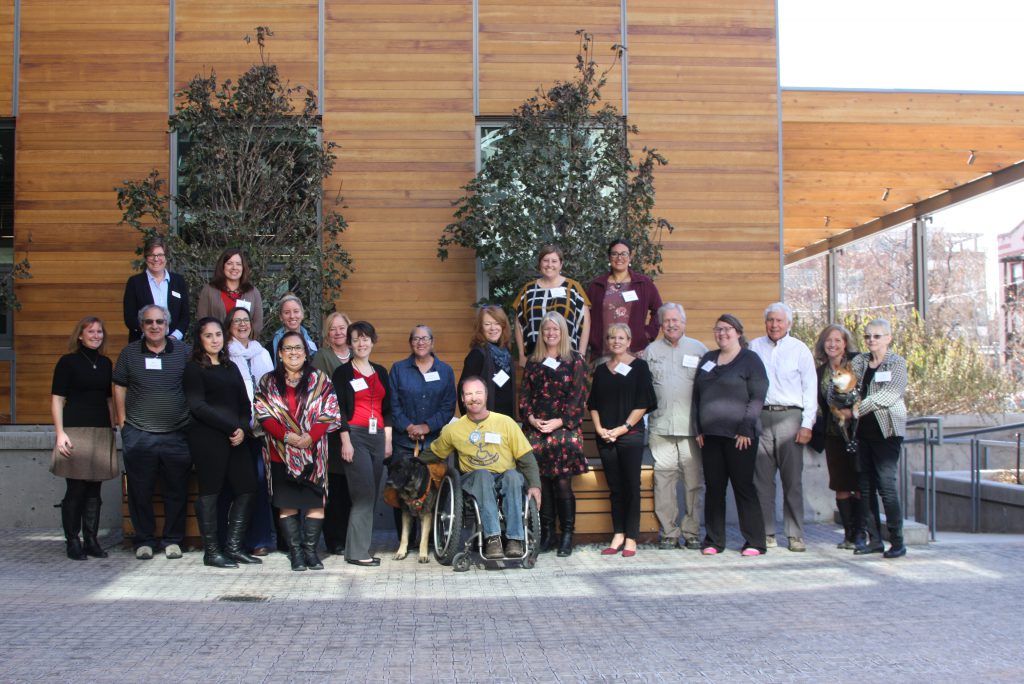 Top Row (left to right) – Judy Dettmer (MINDSOURCE Director), Louisa Wren, Liz Gerdeman (Subject Matter Expert to Advisory Board), Joy Henika, and Denice Enriquez
Bottom Row (left to right) – Summer Gathercole (facilitator), Ben Genzel, Melissa Herrera (MINDSOURCE staff), Russha Knauer, Regina Rodriguez (MINDSOURCE staff), Peggy Spaulding, Diane Byrne, Maria Martinez, Ian Engle, Lenny Hawley, Patricia Henke, Kari Snelson, Steve Heidenreich, Brinda Dungan, Bill Levis, Karen Ferrington (MINDSOURCE staff), and Anna French
Not pictured – Barbara Gabella, Heather Hotchkiss, Anne Meier, Janet Tyler, Ronen Friedman
Below are the upcoming dates for 2019 and 2020. This Board meets from 10:30 am – 1:30 pm at the Mile High United Way located at 711 Park Ave W Denver, CO 80205.  Click on the date to be redirected to the public meeting calendar on the Boards and Commissions page of Colorado Department of Human Services. 
If you need any accommodations we ask that you please contact us a week in advance and we are happy to try and meet any needs you might have
November 19th
February 20th
May 21st
August 20th
December 10th
BOARD MEETING AGENDAS
BOARD MINUTES