MISSION
To advance systems, facilitate research, and assure support services for individuals with brain injury.
VISION
Enhanced quality of life for everyone in Colorado living with, or affected by, brain injury and their communities.
MINDSOURCE – Brain Injury Network (MINDSOURCE), operating under the CDHS, is the designated lead State agency on brain injury. MINDSOURCE fulfills that role through training, technical assistance and capacity building throughout Colorado
MINDSOURCE is dedicated to brain injury research, awareness as well as identification, understanding and support for all those affected by brain injury in Colorado. The Colorado Brain Injury Trust Fund is administered by MINDSOURCE and results from surcharges on a variety of motor vehicle convictions including Driving Under the Influence (DUI), Driving While Ability Impaired (DWAI), Speeding and other moving violations.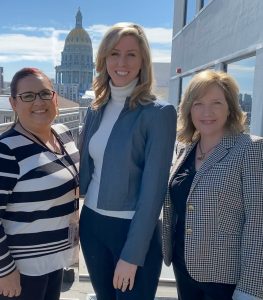 The MINDSOURCE team includes (l-r) Regina Rodriguez Sisneros, Liz Gerdeman, and Lina Kyle. Regina manages all procurement and budget functions as well as diversity and inclusion priorities as the Contracts Manager, Liz is the brain injury subject matter expert and Director, and Linais the Program Assistant that helps keep things running.
"I appreciate the vision and technical assistance of MINDSOURCE to provide schools and school staff with essential tools so that youth with brain injuries can be supported and successful in the classroom."
– Kathleen Patrick RN, Assistant Director, Health and Wellness, Colorado Department of Education