Regina Rodriguez Sisneros, Grants & Contract Manager/Diversity & Inclusiveness Coordinator for MINDSOURCE – Brain Injury Network, recently completed the Georgetown University National Center for Cultural Competence Leadership Academy. The Academy's aim is to advance and sustain cultural diversity and cultural and linguistic competence in networks supporting individuals with intellectual, developmental and other disabilities in the United States, its territories, and tribal communities.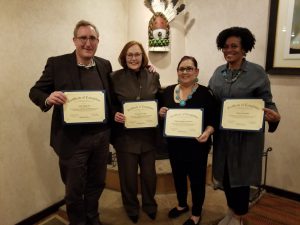 Regina Rodriguez Sisneros, third from left, received her certificate of completion on October 19, 2018.
The highly competitive Academy (with a 10% application acceptance rate) is intended to support individuals currently or interested in assuming leadership to advance and sustain cultural diversity and cultural and linguistic competence (CLC) within their respective settings. The Leadership Academy is an intensive course of study comprised of three months of preparatory activities followed by a four-day learning experience onsite in Santa Fe, New Mexico. After completing the intensive training in October, Regina began a continuous learning program comprised of coaching and mentoring that will continue for up to one year. "The training and information I obtained by participating in the Georgetown Leadership Academy is valuable to MINDSOURCE and the work we do every day," Regina stated. "I am excited to incorporate what I learned as I work with my team, colleagues and our community implementing  policies, procedures and training that fully support a vision of inclusiveness, equity, and cultural diversity awareness."
In her work focused on cultural and linguistic competence, Regina has partnered with Spring Institute for Cultural Learning in Denver to engage brain injury case managers in evaluation and training activities earlier this year. She also formed a cultural competency committee with participation by members of the community to examine opportunities for strengthened cultural diversity in brain injury programming. The committee is currently providing input and technical assistance during strategic plan development by the Colorado Brain Injury Advisory Board.